If you are anything like me, I love the taste of restaurant-style food, then I come home and try and make it, but it just doesn't taste the same. That was until I found Epicure and their meal solutions. They are simply, 'Better Than Takeout!'. I love that I get to control what I put in the meal and I can easily customize it to suit my dietary needs. Gluten-free? No problem since Epicure triple-tests their products to ensure they are allergen-free. Nut-free, sodium and sugar conscious are also high up on their Never ever list. You really need to check it out!
Be sure to scroll through this blog as I share 3 different restaurant-quality recipes with you. These meals are super easy to make and 2 out of the 3 can go from raw to ready in just 20 minutes or less using the General Tao Seasoning and a few pantry staples. Now that is Fast Food at its finest.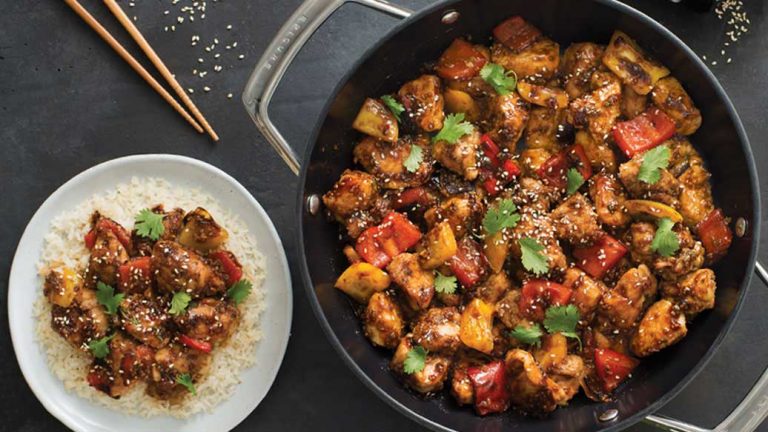 Perfectly Balance Your Plate
Serve with 1 cup rice and 1 cup steamed veggies.
Ingredients
1⁄4 cup water
2 tbsp low sodium soy sauce
2 tbsp ketchup
1 lb (450 g) boneless, skinless chicken breasts, cubed
1⁄4 cup cornstarch
3 tbsp vegetable oil
2 bell peppers, chopped
Preparation
In a bowl, whisk together seasoning, water, soy sauce, and ketchup. Set aside.
Toss chicken with corn starch.
Preheat wok over high heat, then swirl in oil; stir fry chicken in batches until golden, about 5–8 min. Remove pieces as done; set aside.
Add peppers to wok; stir-fry 1–2 minutes. Return chicken to pan. Add sauce, stirring to coat. 
Serve with rice, if desired.
CLICK HERE for the full recipe

Sweet 'N Tangy Sheet Pan Chicken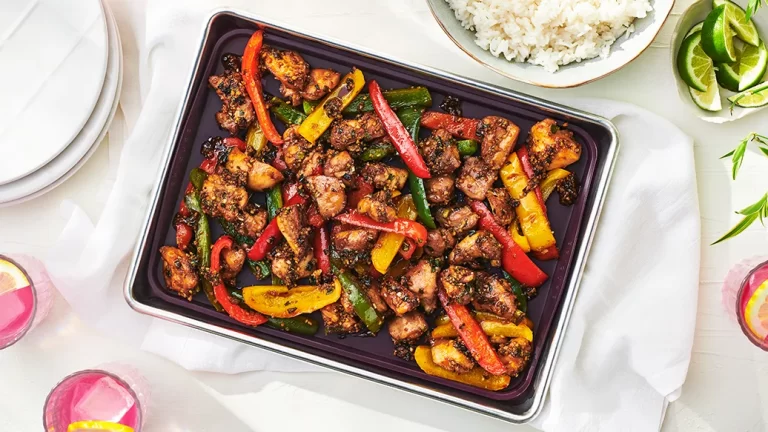 Perfectly Balance Your Plate
Serve with 1 cup rice. 
Ingredients
2 tbsp oil
1 tbsp maple syrup
1 tbsp low sodium soy sauce
1 lime
3 large bell peppers
1 lb (450 g) boneless, skinless chicken thighs
Preparation
Preheat oven to 425° F. Line Sheet Pan with Sheet Pan Liner. 
In a large bowl, whisk seasoning, oil, maple syrup, and soy sauce. Slice lime in half. Using 2-in-1 Citrus Press, squeeze in juice from lime. 
Slice bell peppers. Set aside. Cut chicken into bite-sized pieces.  
Add chicken and bell peppers to bowl; mix to coat. If you have extra time, let stand 10 min or cover and refrigerate overnight.  
Arrange on Sheet Pan. Bake 12 min, or until chicken is cooked through.  
CLICK HERE for the full recipe
Instant Pot™ General Tao Pot Roast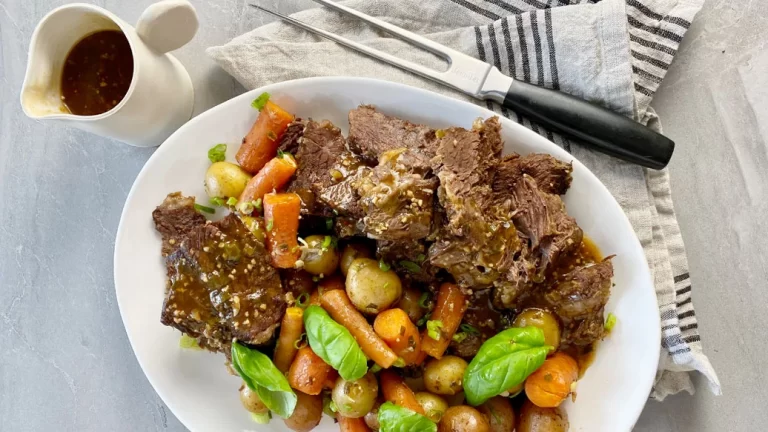 This family-style meal is a budget saver. Make it in the Instant Pot™…and you'll save time too! A classic pot roast dinner can slow simmer in the oven for up to 4 hours. Plug in the Instant Pot™ and you'll have dinner on the table in an hour while saving on electricity too!
Perfectly Balance Your Plate
Serve with 2 cups leafy green salad with 1 tbsp Epicure dressing.
Ingredients
2 1⁄2 cups Beef Broth or broth of your choice, prepared
1⁄4 cup ketchup
1⁄4 cup soy sauce, preferably less sodium
4 lbs (1.8 kg) beef pot roast
6 carrots
1 large red onion
2 lbs (1 kg) whole baby potatoes
1 tbsp cornstarch
1 tbsp water
Toppings (optional): soy sauce, fresh basil leaves or sliced green onions
Preparation
In a large measuring cup, combine broth with seasoning, ketchup and soy. Set aside.
Cut roast in smaller chunks, about 6–8 pieces in total. Place in an 8 Quart Instant Pot™. Cut carrots into large pieces. Slice onion into skinny wedges. Arrange carrots, onion and potatoes overtop meat.
Pour in reserved broth mixture. Secure lid; press "MANUAL" button, select "HIGH", and set the time to 30 min. Ensure the steam release handle is in the "SEALING" position. This will take some time to get up to temperature before the timer starts to count down.
When the cook time has finished, turn to "KEEP WARM" and let pressure release naturally for 10 min.
Press "CANCEL"; using a long handled spoon, push the steam release handle to "VENTING" position and allow any remaining steam to release before opening the lid.
Using a slotted spoon, scoop carrots and potatoes into a serving bowl; cover to keep warm. Place meat on a cutting board; cover to keep warm.
For the sauce, mix cornstarch with water; stir into juices and turn the Instant Pot™ to "SAUTÉ". Whisk constantly until saucy and thick. Taste; season with more soy sauce, if desired.
While sauce is thickening, slice or pull beef into small serving pieces. Place on a platter.  Spoon sauce over top or serve on the side. Top with basil or onions, if desired.
CLICK HERE for the full recipe