We have all heard of the 12 days of Christmas, now let me share with you the 12 Tastes of Christmas. I have put together a delicious selection of recipes that my family enjoys over the holiday season. The great thing about these recipes is, they are quick, easy and delicious.
Be sure to register at the link below and join me in your inbox for ALL the 12 Tastes of Christmas.
The 1st taste of the Season is a family favourite with a bit of a twist this year. In previous years I have made this recipe using Hot Buttered Rum. With Hot Buttered Rum is not available in our product line this year, I have had to find a way to pivot. LOL! it would not be 2021 without a pivot. I promise this recipe is worth a try.
True North Butter Tart Christmas Crack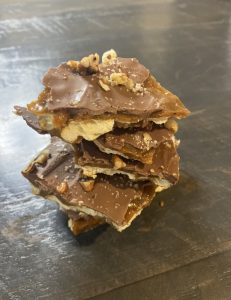 This delicious caramel toffee sandwiched between a layer of saltine crackers and smooth milk chocolate is sure to please any sweet tooth.
Ingredient:
🎄36-48 saltine crackers
🎄1 pack of True North Butter Tarts 
🎄1/2 cup of light brown sugar
🎄1 cup of butter
🎄2 cups of chocolate chips
Garnish: 
Prepared Cinnamon Spiced Nuts (chopped pecans/slivered almonds) or other toppings of your choice
Preparation:
Preheat oven to 350*.
Lay crackers in a single layer on top of silicone liner in a sheet pan
In a small pan add butter, True North Butter Tart mix and brown sugar, heat on medium, stirring frequently
Bring to a boil and continue stirring until it thickens, the colour will get darker. Approx 3 minutes
While hot, pour mixture over top of the crackers and smooth over the top of crackers 
Place sheet pan in the oven for 5-7 minutes until the Butter Tart mixture forms tiny bubbles
Remove from oven and sprinkle with chocolate chips & smooth out chocolate all over crackers and garnish with your favourite topping. NOTE if using chocolate chips with a higher melting point you may need to place the pan in the warm oven (oven should be off) until chocolate chips are soft enough to melt)
Refrigerate 1-2 hours, break into small pieces
Store in an airtight container in the fridge & ENJOY!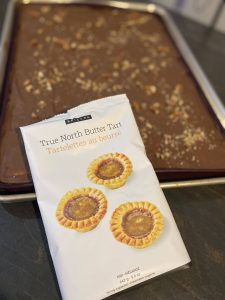 Join the 12 Tastes of Christmas list to receive all the featured recipes direct to your inbox.