Looking for a Halloween treat that is quick and easy to make and still have great impact. You have come to the right place. This blog is all about making a deliciously spooky chocolate bark.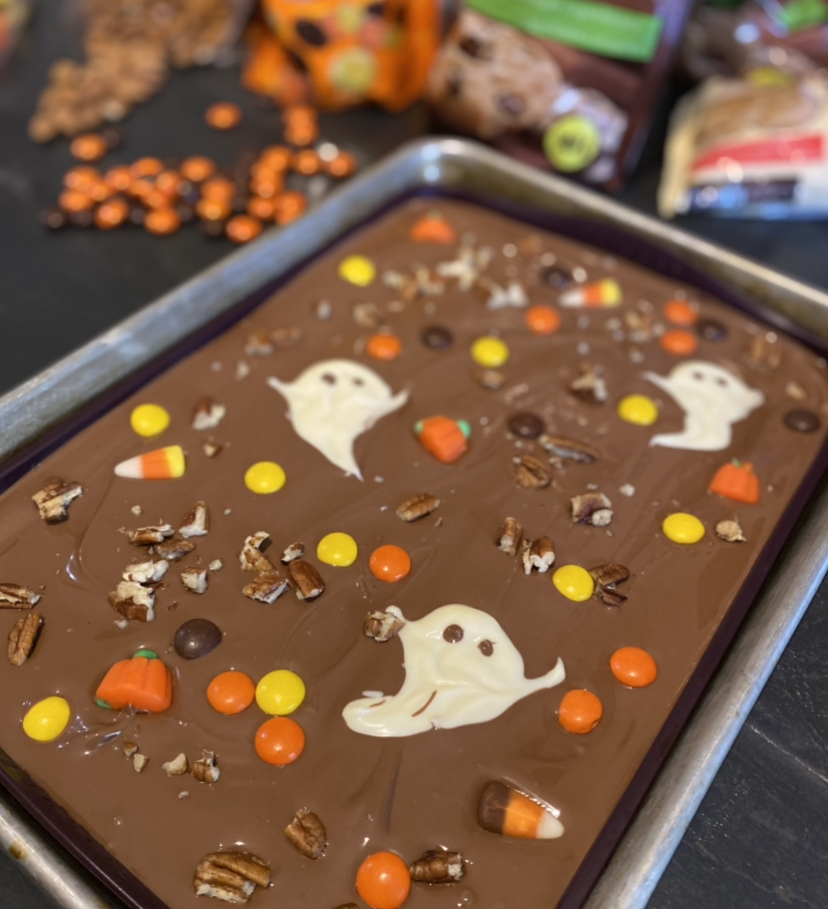 Most of the items that you need can be found in your pantry. Here is my list, but you can customize and add or remove items as desired.
✅ Chocolate Chips or quality chocolate 
✅ White Chocolate Chips
✅ Candy Pieces 
✅ Candy Corn
✅ Pecans
The easiest way to melt the Chocolate Chips is in the Microwave, I simply added the Chocolate Chips to my Epicure™️ Multi Purpose Steamer, a microwave safe dish will work as well.  Heat for 30 sec increments – making sure to stir well in between – do not skip this step. You want your chocolate to be approximately 90% melted, there will be some partially melted chocolate chips. The remaining chocolate will melt as you continue to stir.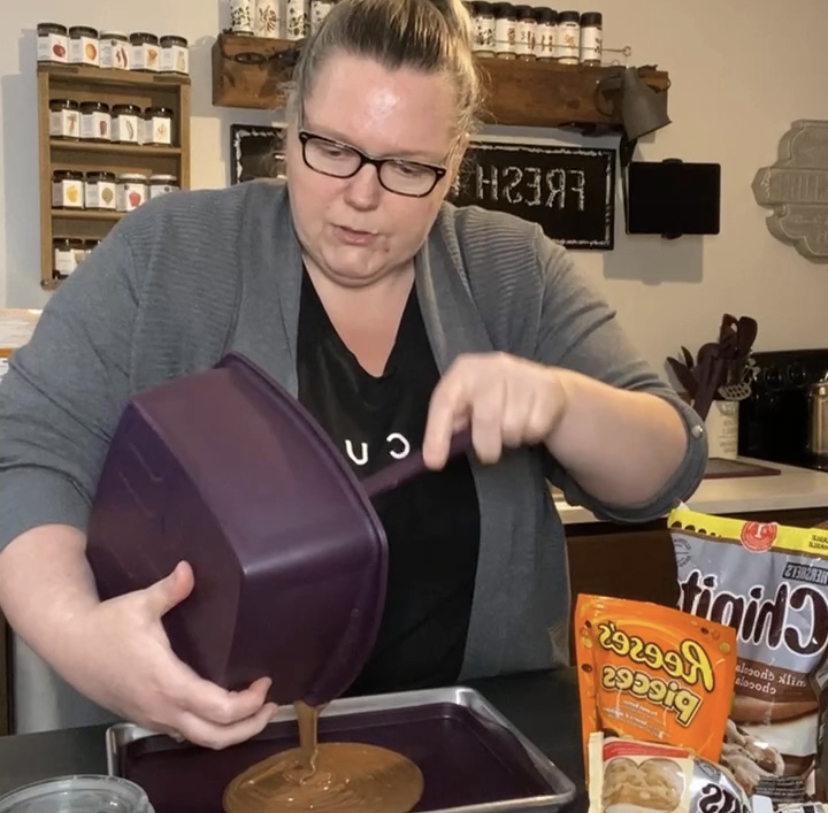 No microwave no problem, simply use the double broiler method. Place a heat proof bowl on top of a pot of gently boiling water, be sure that the water is not touching the bowl. Continue to stir until the chocolate chips are almost all melted. Remove the bowl from the pot – be sure to wipe the bowl as you do not want any condensation to drip into your chocolate when pouring it. Continue to stir until your chocolate is smooth.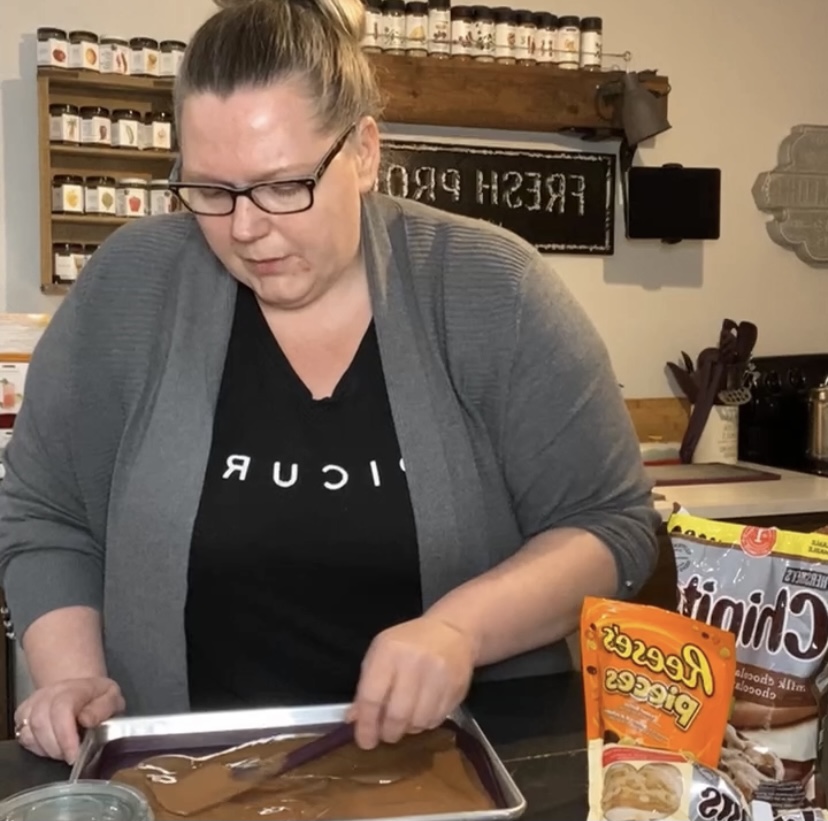 Once you have a smooth and silky chocolate sauce simply pour it onto your lined baking sheet. Use Epicure™️ 1/4 Sheet Pan Line or parchment paper to line the baking sheet. Note: if you are making the ghost design on your bark, be sure to reserve a small amount to make eyes. 
Are you in a rush, slide the baking sheet into the fridge and you will be serving delicious chocolate bark in just a few hours. Setting time may vary depending how thick your bark is. 
If time allows, let your chocolate bark rest on the counter for a few hours. This will prevent condensation on the chocolate.  Overnight, this condensation may result in white swirls on the bark, this is known as Sugar Bloom and is totally edible.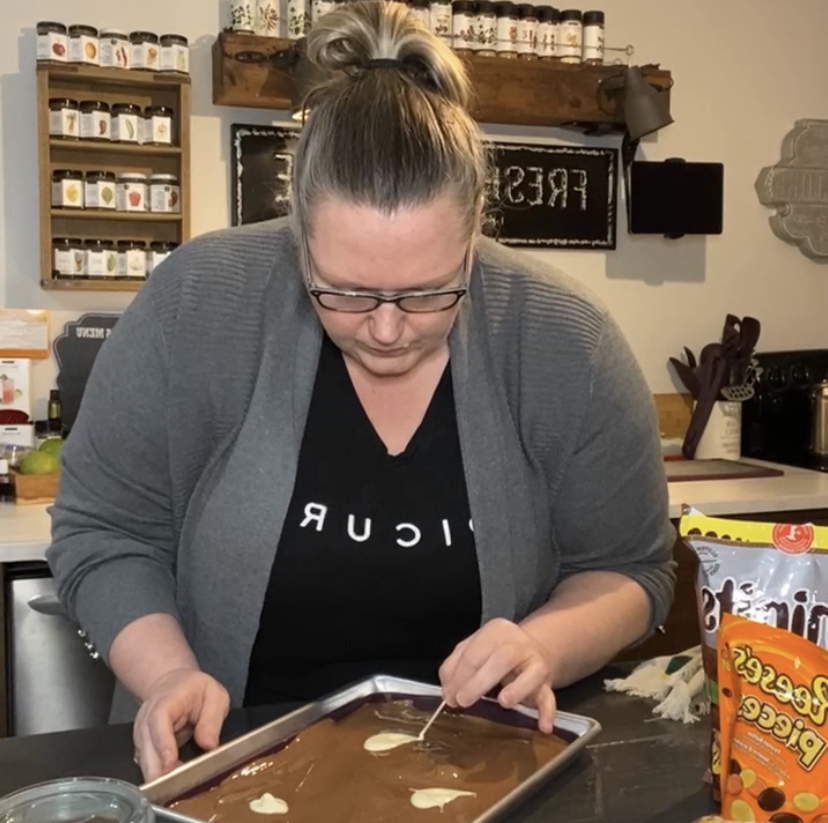 Now it's time to decorate your bark. To make the cute little ghost simply add a dollop of melted white chocolate (melt as above, but on a much smaller scale). The size of the ghost will be determined by the size of the dollop, I recommend between 1 tsp to 1 tbsp. Then simply take a toothpick and drag it from the centre out to form the tail of the ghost. Cleaning the toothpick in between, from the centre out pull to form small arms. Using a clean toothpick take some left over chocolate and add eyes to your ghost. Add your candy and nuts around the ghosts and let rest.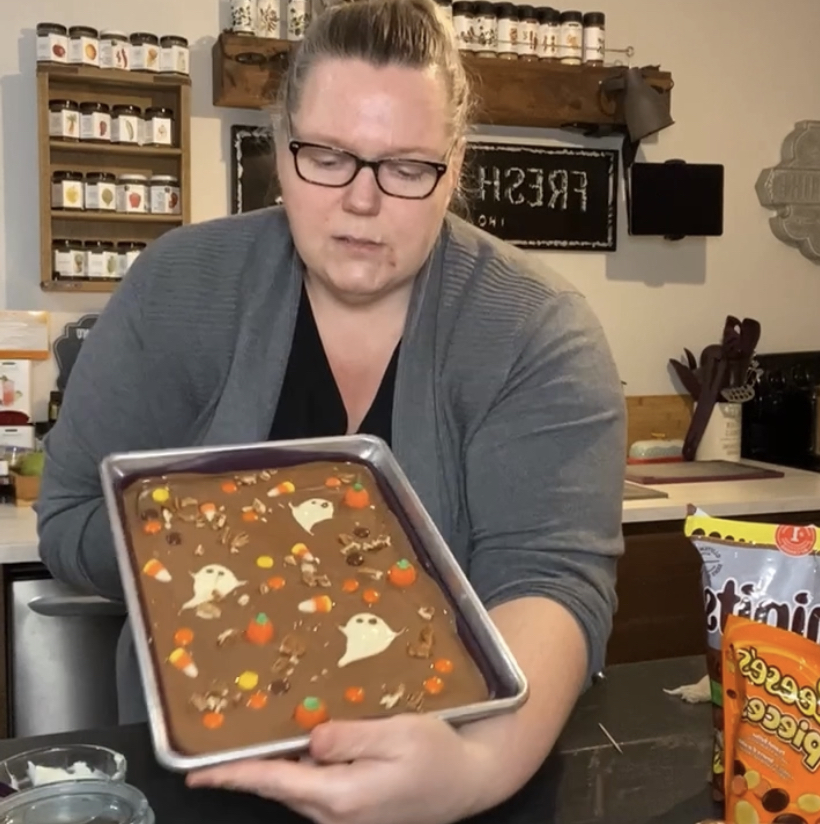 Once the chocolate is cool and has harden completely, use your hands to brake into pieces. Enjoy immediately or store in an air tight container for up to one week.