Are you looking for a fresh new fundraising opportunity? I invite you to check out Epicure's Fundraiser. Our global Fundraising program features the updated and expanded Weeknights Dinner Collection for only $25 CA|$25 US
This fundraiser is not like all the others, we offer 5 healthy, quick and delicious family-friendly meals, plus a decadent dessert. This collection is a hit with families and is a win-win for everyone involved.
Why Fundraise with Epicure?

Your potential customer base is large. You will reach your goals faster as you will earn 40% on each sale; that works out to $10 from every collection sold. You will never need to preorder or bulk buy as we only order the collections that you have sold. You will never wait for your funds, you will raise funds as fast as your group can sell collections. As your consultant, I promise to make the fundraising process painless
What comes in the Weeknights Dinner collection?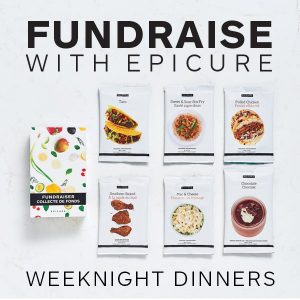 The collection of assorted easy meal solutions helps you get dinner on the table fast. Bonus: They're gluten- and nut-free (excludes coconut).
A. Taco Seasoning
B. Sweet & Sour Stir-Fry Seasoning
C. Pulled Chicken Seasoning
D. Southern Baked Gluten Free Crumb Mix
E. Mac & Cheese Seasoning
F. Chocolate Instant Pudding Mix
Reach out if you want to chat about how this fundraising opportunity can help your group or organization raise some much-needed funds. This opportunity is available in Canada and the continental USA